Maine Coon Kitten from Germany
Florence Idgie of Fantasy Valley (Fantasy Valley Maine Coon-Clan)
All information provided here is self-reported by the breeder and has not been verified.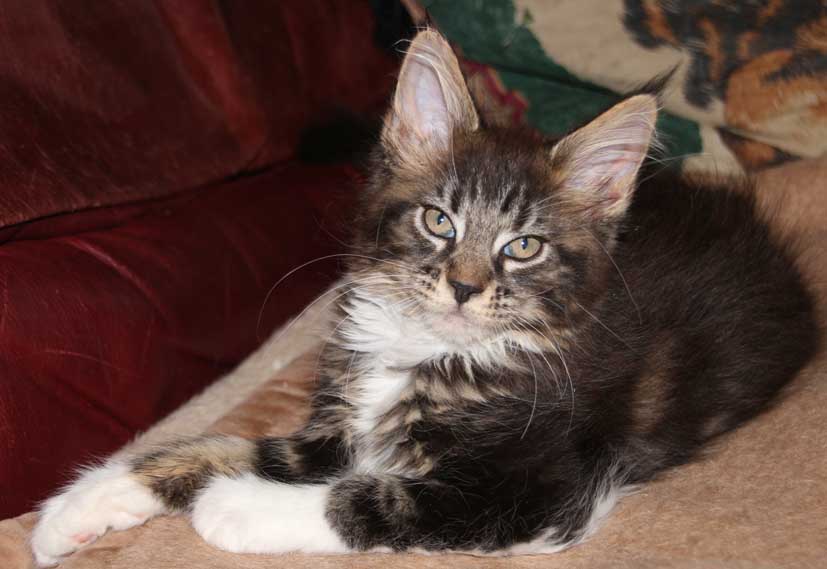 Florence Idgie of Fantasy Valley
*4.8.2021
black tabby classic/ white
female
available

Idgie ist typvoll und ganz im ferralen Look. Sie hat ein herrliches Temperament und entdeckt gerne Neues, eigentlich hätte ich sie Florence Columbus nennen sollen aber das war einen Buchstaben zu lang... Ihr Selbstbewusstsein ist nicht von schlechten Eltern.
When moving the cats are
neutered: no
chipped: yes
RCP vaccinated: yes
Rabies vaccinated: by request
FeLV vaccinated: no
FIP vaccinated: no

The cats were feed with
Dry food: no
Wet food: yes
Meat (Barf): no

Where and how did the cats grow up:
first weeks in the kitten room, then in the living area
with children: no
with dogs: no

Pedigree from: SDRV
Lines: Showlines
Sire: Barrier Castle's F'Sir Lancelot
Testresults Sire
Dam: Peaceful Josy of Fantasy Valley
Testresults Dam
no Testresults published
Parents (or cat self) are tested normal in
HCM Ultrasound: yes
HCM A31P DNA: yes
PKD Ultrasound: yes
HD X-Ray: not specified
Cattery: Fantasy Valley Maine Coon-Clan
Breeder: Hauslaib-Lehmann Christiane
Phone: 02292 - 7456
Zip Town: 51570 Windeck/Sieg
Country: Germany
HP:
http://www.fantasyvalley.de
Email:
chl@go4more.de
view the entry in breederlist
entered on: 2021-11-18 15:48:29
This entrie was viewed 279 times so far.
weitere Infos: Prachtvolle Maine Coon Kitten aus alten, bewährten Linien suchen Ende Oktober/ Anfang November einen neuen Wirkungskreis. Wir sind große, gesunde Schätze, vom Wesen her offen und verschmust, mit einer liebevollen Kinderstube. Natürlich haben wir einen Stammbaum, sind mehrfach entwurmt, zweifach geimpft, haben einen Europa-Impfpass und sind gechippt. Da jeder im Leben einen guten Kumpel braucht, gehen wir nicht in Alleinhaltung; am liebsten zu zweit, da haben wir den halben Stress und Ihr die doppelte Freude!. Unsere Eltern sind HCM- und PKD-frei (geschallt) und bei einem persönlichen Kennenlernen dabei. Wir wohnen in NRW im schönen Siegtal, www.fantasyvalley.de, ca. 50 km östlich von Bonn und freuen uns auf Euch!
view complete entrie with possible littermates